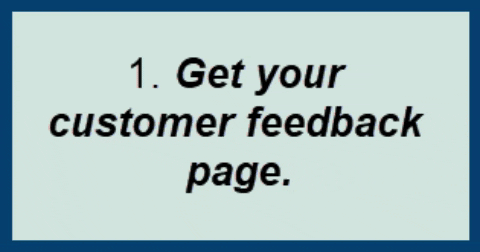 Tap or Click to expand the buttons below.
---
WANT TO LEARN MORE BEFORE YOU BUY?
Why you might want a feedback page for your business.
You might want your own feedback page to see how your customers feel about your business BEFORE your send them to your Google My Business page! That way, if they have a complaint issue you can take care of that before your ask them post on Google.
---
See How a Feedback Page Works
See a working Demo where customers would see a form on which they leave their comments and a rating for the business. HERE
Once you are on the Demo site, just pretend to be a customer and leave your comments. The page will send you an email after you click the SUBMIT button. It will give you a link to the page where your rating and comments will be displayed.
Then see the Demo of where all the feedback/reviews/testimonials would be displayed for other prospective customers to read. HERE
Once you have a feedback page of your own, you just create a short link to it to make it easy to give to your customers in a text, email or over the phone. Something, like widgetmfgreviews.com or widgetreviews.link (using your business name) .
Put the link to your customer feedback page on your website, on business cards, invoices, email signatures with enough information so that customers understand that clicking the link will take them to a place where they can leave their feedback/review/testimonial for your business.
Read what your customers say and your business improve and grow.
Remember that ALL customer feedback, both positive and negative help you make your business better.